The scenes unfolding in Israel and Gaza over the last three weeks have been ones of horror – and MAG has made clear its view that all parties to the conflict must take precautionary measures to abide by International Humanitarian Law and to limit the harm to civilians.
Many of our staff across the world have their own experience of living with and through conflict and, specifically, living with the indiscriminate harm that is caused by the use of explosive weapons in populated areas.
From Syria to Myanmar – and too many places in between – our people can attest to the horror of living under the bombs.
That's why our priority in relation to Gaza has been our operational response – what can we practically do to help keep people safe.
Immediately after the outbreak of hostilities, we launched an emergency Digital Explosive Ordnance Risk Education (DEORE) messaging campaign to get practical safety advice to those caught up in the war using social media platforms and working in partnership with the United Nations Mine Action Service (UNMAS).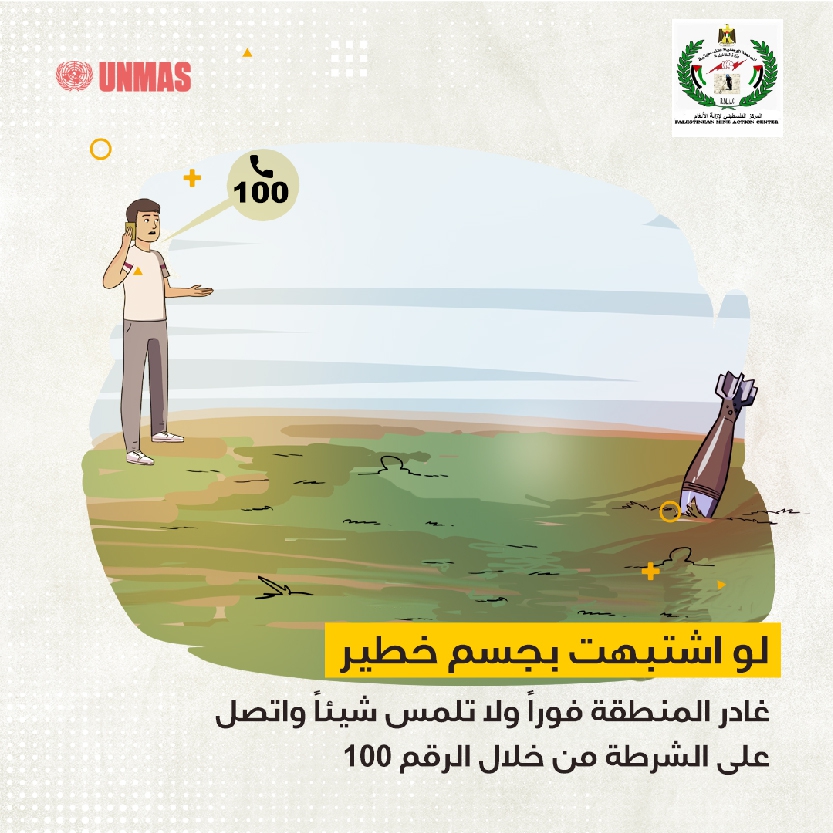 So far, MAG's emergency DEORE has been via Facebook and Instagram, warning the affected population in Gaza about the dangers of unexploded ordnance. Our Community Preparedness and Prevention messages have also provided information about reducing risks during bombardment and while seeking shelter, how to help ease children's anxieties, prepping emergency bags and avoiding burns from white phosphorus bombs.
The messages have reached over 1.1 million people to date, despite challenges in connectivity due to electricity cuts and blackouts.
We have also now started DEORE activities in the West Bank, again using Facebook, following a campaign for residents there in July in response to the deadly confrontations in Jenin Refugee Camp. That campaign reached 280,000 people in the West Bank within two weeks and our new activity is already engaging thousands of residents.
Traditionally, MAG's Explosive Ordnance Risk Education (EORE) provides affected communities with potentially life-saving information on how to recognise, avoid and report threats through in-person workshops. When it comes to emerging and increasingly protracted conflicts, however, communities need to be provided with safety messages fast and, potentially, on an ongoing long-term basis.
As more than 4.7 billion people are now online and 5.2 billion people have a mobile phone in every country of the world, digital tools have enabled us to rapidly develop and deliver materials in a dynamic and cost-effective manner to the most at risk communities.
Social media also enables us to target large numbers of people in a specific area and overcome obstacles posed by security, geography and complex operating environments that limit the delivery of face-to-face risk education.
Digital content is also more universally accessible to people with limited mobility, as well as sight and hearing impairments, as it can deliver messages with subtitles and spoken word audio to their home via their personal devices.
Since MAG first piloted DEORE in northern Iraq in 2019 and discovered through community liaison surveys that 94 percent of people found our Facebook ads helpful in understanding the risks posed by explosive ordnance, we've formed partnerships to expand this work to several other countries.
Our partnership with the Office of Weapons Removal and Abatement in the US Department of State's Bureau of Political-Military Affairs (PM/WRA) and Facebook enabled us to launch ads in southern Iraq, Lebanon, Somalia, and Vietnam, reaching more than 11 million at-risk civilians.
In 2022, the partnership further expanded to include Palestine (via UNMAS) and Syria, while digital risk education is now also being delivered in Ukraine.
In Gaza, we will continue to work to strengthen our response and will continue to do everything we can to try to limit the casualties by providing people with critical safety messages that can help save their lives.